The milkshake diet
by Sandy Davis
(Finger, Tn - USA)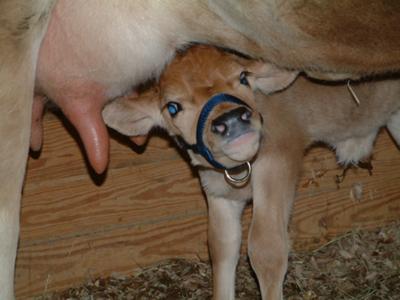 Got real milk?
Several years ago I was diagnosed with breast cancer and starting researching the subject as if my life depended on it. I repeatedly came across very disturbing information on the dangerous hormones implanted in both beef and dairy cattle to increase size/production. I also came across something I had never even HEARD of before, something called "raw milk".

Now I knew what pasteurized milk was, but I had no idea that there was another option or that this so-called "milk" in the grocery had most of the nutrients and all the live enzymes heated out of it. Well the more I read about raw milk, the more I knew I had to have it.

My first attempts at obtaining this amazing food led me to a shocking discovery. It was illegal to buy/sale raw milk in my state, as it was in many others. When I began researching why raw milk would be illegal, I of course came across the history of pasteurization and learned WHY milk had to be pasteurized. Now I was furious! I had been paying so much attention trying to keep up with all the trickery Big Pharma whipped up regarding breast cancer, I had not really thought much about the beef and dairy industry. I now believe that these three industries are responsible for much of the breast cancer in this country.

Well, I have a hobby farm where I had always kept horses, but had never considered a cow. All that was about to change and the hunt was on.

I bought Eunice a few months later, my first jersey cow! Now I've never been much of a milk drinker, but there were so many other options besides just milk; butter, cream, yogurt and cheeses just for starters. But my favorite option was the raw milkshake!!!

I would take homemade ice cream if I had it, or store bought if I didn't, and mix in straight cream with some malted and blend - WOW what a treat! But the biggest treat was yet to come. I quickly found that these milkshakes would make me so full that I was eating less. I also realized that my body seemed to become much more efficient at burning fat. This really surprised me since there is so much fat in the cream, plus all the sugars in the ice cream.

And if all this wasn't enough, dairy cows are some of the sweetest and most docile creatures on the planet and have now become the biggest pets on the farm!

If the ladies in this country ever discover this milkshake diet, there will be a jersey in many backyards across the U.S.!